m's choice:
Neutrogena Deep Clean Cream Cleanser
I have been known to test out new products when I get bored with one, and face wash is no different. However, I always end up going back to my favorite, Neutrogena's Deep Clean Cream Cleanser. This product really gets deep down into pores dissolving dirt without stripping your face of moisture. It's oil free formula rinses clean and leaves your face looking healthy removing dead surface skin. The cool tingling sensation and fresh scent always leaves me feeling refreshed and ready to start or even end my day!
c's choice:
Normally, I don't tend to favor any brand to another and am willing to try them all, but lately I've been all about Aveeno. After trying their moisturizer and loving it so much, I started using their Skin Brightening Daily Scrub. I like it because it's a scrub so I feel like it really gets down in there and cleans out my pores while exfoliating, but it's not too harsh, so I can use it every day. The reason I'm loving Aveeno so much lately is because I'm actually seeing results in my skin, and normally I never really notice much of a difference from product to product.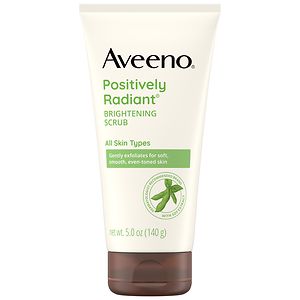 Tips:
1.) Remove make-up prior to washing face.
2.) When drying your face gently pat with a clean towel.
3.) if your skin is oily you may want to use a toner after washing.
4.) Always apply a moisturizer after.
5.) Wash face morning and night. (If your skin is really dry you may want to wash at night only and rinse with water in the morning).
x
m and c.