Each season requires tweaks to our beauty routines and for me, summer creates more problems than any of the other seasons. Today the weather is supposed to be in the triple digits and the humidity will be through the roof, so I figured it would be a good day to share some of my favorite summer products.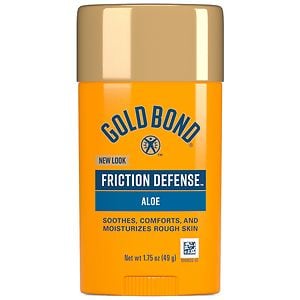 This product sort of saved my life. My thighs rub together horribly in the summer. It's painful and can be quite a nuisance when I'm walking around a lot. I used to apply deodorant to where ever I would chafe, which helps but not as much as this Gold Bond Friction Defense. This stuff lasts a lot longer, goes on clear and odorless, and prevents my legs from chafing even a little bit. It looks like a stick of deodorant and is small enough for me to carry it in my purse, so I always have it when I need it.
This product works great on those unwanted dark hairs that are usually covered up in the colder winter months. It's easy to mix up and apply and works quickly (8-15 minutes) depending on how stubborn the hair is. Also, it didn't irritate my skin or anything. I've even used it right before hitting the beach.
Speaking of lightening hair, I love using lemon juice to create natural highlights. It works best when you get your hair wet, sprinkle some juice on your hair and then let it dry in the sun. I don't recommend doing this too often because it can dry out your hair but a few times a summer is okay. Also, I don't recommend using Sun-In or other similar products, those always seem to leave my hair with a brassy tone.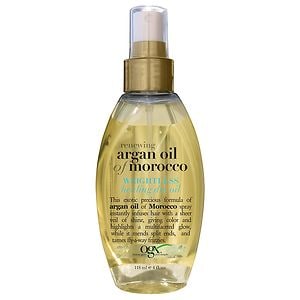 M mentioned using argan oil in an earlier post, which influenced me to buy this. I don't even bother straightening my hair in the summer because it's so curly, but this has really helped tame my curls and controls frizz. I've even stopped using mousse because of it. Also, it smells amazing and a little goes a long way. For those of you with thinner hair, I recommend spraying it on your hands and rubbing it through the ends of your hair so it doesn't weigh it down.
Urban Decay's Eyeshadow Primer Potion has always sort of been a staple in the make up industry, and I understand why. Not only does this stuff help my eyeshadow colors really pop, but it keeps my eyeshadow and liner in place all day, even on the sweatiest of summer days. Pair with a bit of waterproof mascara, and you'll have a sweat-proof summer makeup routine.
Are there any products you add to your summer routine? I'd love to hear about them!
x
c.